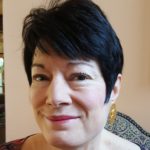 Cathy Thomas MEd. LPCC
I am Cathy Thomas LPCC (retired). I was a trauma psycotherapist for 25 years who specialized in EMDR therapy. I have long believed in the Mind,Body and Spirit model of therapy. After retiring from working as a psychotherapist I began painting  and at the same time began studying Tarot. I have always been fascinated by the power of images, and used collages professionally and personally to clarify issues and intentions.
My study of Tarot blossomed into a passionate desire to use Tarot  and Oracle cards as well as my years of experience, to help people with their personal struggles. I now do email readings for people all over the world. I believe the cards can help people more easily understand the underlying dynamics of a situation and to see more clearly how they can make changes that will lead to a life they desire. I do not believe that life is fated. I believe we have the personal power to create the lives we choose to live and to see the spiritual purpose in some of the hard times we experience. Being able to see the bigger spiritual picture is one key way to work through  challenging times with more ease.
We are living in hugely transformational times and each of us can use some additional insight into how we can best pursue our purpose in living at this time. If you feel that a spiritual approach to a Tarot reading would be of some support to you, I would love to help.
Leslie Evelo, Ph.D.
Leslie Evelo has been in private practice as a psychologist since 1991, and has worked extensively with trauma, grief and loss, mindfulness, and energy healing.  She is the Owner and founder of Online Therapeutic Consultation, LLC, and provides online therapy, mindfulness training, Ericksonian hypnosis, and professional consultation.   Leslie is also a Reiki Master, and approaches all her work from the perspective of mind/body/spirit wellness.  She believes that in order for us to live authentically, we must view mind, body, and spirit as one unified whole.  Leslie lives in Cincinnati with her life partner and their three dogs.